Art Unraveled has been going on for the past week or so and it's been a great event. This past Saturday the Shopping Extravaganza took place and a wide variety of artists and vendors where there selling everything from handmade journals to stencils. Classes start late on Saturday so everyone has plenty of time to shop and I had just enough time to check everything out before teaching my class, "Dug from the Ruins: A Polymer Clay Art Journal".
Today, I taught my class titled "Worn by Time: A Coptic Bound Art Journal." In this class, students use Milk Paint to transform ordinary oak boards into a 3″ x 5″ journal. The morning was spent drilling holes for the binding, building up layers of color using Milk Paint and the distressing the surface to reveal those layers and simulate the look of wear and age. For many, the Coptic Sewing is hard to learn so the rest of the day was reserved for sewing demonstrations and hands on help with the binding.
Students finished their books by setting a small image into a bezel and attaching that to the cover and then installing a simple closure that was fabricated from brass. It was a great group of students and their books turned out exceptionally well. I hope to see them again in the future at other events.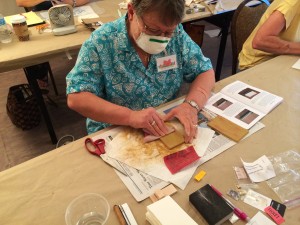 A student distresses the covers of their journal in the "Worn By Time" class.